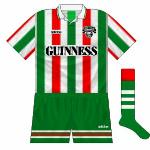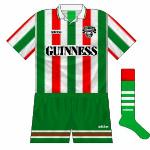 It's rare that you can say that a team which finishes in a seventh place could and should have won the league. As odd as it may seem, however, this applied to Cork City in the 1994-95 Premier Division, a real season of two halves. In the first 16 league games, City won 10, drew three and lost three to top the table with 33 points, but 11 of the remaining 17 matches were lost, the turning point being the resignation of manager Damien Richardson following a 3-2 defeat away to Sligo Rovers in December.

Up until then, things had been fairly rosy, with Billy Woods making an immediate impact as Anthony Buckley's replacement  while young left-back Gareth Cronin was a revelation, allowing Stephen Napier to partner Fergus O'Donoghue in the centre of defence. The kit from the previous season - now known by most fans as 'the pyjamas' - remained, but clearly there had been misigivings about the shorts with one striped leg, as they were no longer to be seen anywhere.

Deciding upon a replacement set was not exactly straightforward. A short-term fix was seen in the pre-season friendly against Celtic at Bishopstown, where the team wore blue shorts in the new adidas design (above left), but by the time competitive action began a red version had been found (above). These shorts were worn against Slavia Prague in the UEFA Cup, a 6-0 aggregate loss, but they did not last for too long either. Eventually, a green set, with red and white stripes, was sourced (right), and these were the shorts worn for the remainder of the season. Results domestically continued to impress, but behind the scenes, the situation was not as positive as it might have seemed to the fans.

As has so often the case with football on Leeside, money was in short supply. Richardson, effectively operating with a squad of 14 first-team players, wanted chairman Pat O'Donovan to provide investment for new players, but it was not forthcoming, which is hardly surprising when some players could not be reimbursed for the loss of earnings from their normal jobs. In fact, Tommy Gaynor, claiming that he he had not been reimbursed for time off work for the Prage game, went on an unofficial 'strike' for a game against Shelbourne in December.

The week experienced by Gaynor in mid-December best illustrates the plight of City, who by now had received a long-sleeved set of the striped shirts (far left), while a sock variation had also crept in (left). On Sunday, December 11, he scored two fine goals in a 3-1 win over St Patrick's Athletic, the  he was absent for the Shels match on the Wednesda and in Sligo on the Saturday night he was forced to go in goal after Alek Ludzik – in for Phil Harrington – was sent off when City led the game 2-1. The victory over Pat's – played at Turner's Cross as Bishopstown was suffering from drainage problems, so serious the FAI were threatening not to allow the club to use it for 1995-96 – left City three points clear of Shamrock Rovers and seemingly in a great position to make it two titles in three seasons and cement their staus as the country's top side.

While the defeat to Shelbourne was a setback, it was by no means terminal. The Sligo game presented problems, though. Richardson requested a Sunday afternoon kick-off and City were within their rights to look for a change as Rule 49 of the rulebook meant that clubs did not have to travel more than 170 miles for night games if they so wished, but the FAI, citing legal advice, allowed it to be played in Sligo's favoured timeslot of Saturday night. Harrington was unable to travel due to work commitments, but that didn't seem to matter as Pat Morley and John Caulfield put them into a 2-0 lead, though Johnny Kenny pulled one back for Sligo before half-time.

Five minutes into the second half, Ludzik was red-carded for what was deemed to be a professional foul on Eddie Annand and there was a delay while he attempted to protest his innocence, something which would be proven on TV highlights the next night. Aftere play had resumed,

Annand put his penalty past Gaynor and then Mike Small completed the turnaround. City were still top, but it didn't make a difference to Richardson, who had decided to reisgn. He would say on the Monday that "There has not been a happy situation all-round at the club for some time. My decision to quite has not been taken lightly, but it's fair to say that it's a combination of things that have brought it to a head." Having rung O'Donovan after the final whistle to inform his of his departure, Richardson told the players and despite captain Declan Daly leading a delegation asking him to reconsider when the bus stopped at Ballyhaunis, he could not be persuaded to change his mind.

From there, things began to go downhill, notwithstanding the victory over Dundalk in the two-legged League Cup final, Noel O'Mahony having returned again as manager to help the club out. In the other cup competition, the FAI Cup, City's interest ended with a 3-1 loss to Shamrock Rovers, which saw yet another kit oddity. Having worn the black away kit, in short-sleeved format, away to Rovers in the league (above right), the cup game oddly saw them wear long sleeves with the home shorts and socks (right).