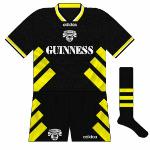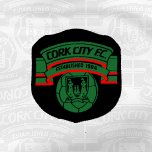 Compared to the high numbers of variations seen in the previous few seasons, the 1995-96 campaign provided a bit more stability kitwise for Cork City. At least something was stable, because everywhere else the club was headed for turmoil, almost resulting in its extinction before a last-minute effort at saving it ensured survival.

With manager Noel O'Mahony having stepped down for the final time at the end of the schizophrenic 94-95 season, City made the left-field appointment of former Sunderland, Derby County and Wolverhampton Wanderers centre-back Rob Hindmarch as new player-manager. Many of the team that should have won the title the previous year had moved on, though, among them goalkeeper Phil Harrington, defenders Fergus O'Donoghue and Stephen Napier and wide midfielders Tommy Gaynor and Billy Woods, while Pat Morley was injured early on in the season.

But at least the kit was good - one would almost go so far as to say it was a classic. First seen in the friendly against Manchester City at Bishopstown in July, it was a return to white shirts, incorporating the 'grandad' collar adidas also used on Liverpool and Newcastle United's strips that season. In the friendlies, and Munster Senior Cup and League Cup games, a black version of the crest was used while the shorts were plain (top left), but a new version of the crest appeared on the shirts and shorts in time for the start of the league (left, bigger image top right).

Despite an encouraging start, things began to go fairly bad fairly quickly, with new arrivals failing to settle all that well. Former Shamrock Rovers and Shelbourne goalkeeper Jody 'Jody, what's the score?' Byrne manned the sticks before being released and replaced by Melvin Capleton on loan from Blackpool, but he was even worse and returned to England, with Byrne returning. Others too failed to impress - Trevor O'Brien started a right-back before being jettisoned, Darren Shaw flattered to deceive on the wing and in attack Barry Ryan and former Arsenal trainee Tony Connolly battled manfully but suffered through the absence of Pat Morley and, often, John Caulfied too.

To decry all the new arrivals as being useless would be unfair - Dave Hill and Colin O'Brien would become club legends while defender Michael Kerley gave a good account of himself - but Paul Wimbledon and Gary Castledine, we hardly knew ye. That pair of midfielders made their debuts in a win over UCD in November but it subsequently emerged that neither had received international clearance after joining from English clubs and the club were docked three points. It was in keeping with what was going on behind the scenes, as it was becoming clear that the financial commitments involved with the stadium at Bishopstown were a millstone around the neck.

The full extent of just how bad things were took time to emerge, however, but things were lacklustre enough on the pitch. Hindmarch struggled to adapt to his role and often displayed questionable decision-making, playing left-back Gareth Cronin as a winger while Morley, upon his return, was occasionlly seen in midfield. This, remember, is a man who has scored more League of Ireland goals than almost anybody else. Incidentally, the 1993-94 change kit remained for a third successive year, worn in away games to Dundalk and Shamrock Rovers, only in short-sleeve format.

January was hell, as the club's debt was revealed to be somewhere in the region of IR£300,000. For a brief, horrific period, it looked as if the club (now wearing long sleeves, far left) might go under as chairman Pat O'Donovan looked to offload it, but thanks to the help of the Football Association of Ireland and main sponsors Guinness, a new consortium, headed up by chairman Terry Dunne, took over the running of it. With Bishopstown now under the control of the FAI, home games would return to Turner's Cross, with the first game under the new regime played in front of a crowd of 4,000.

It was a scoreless draw but the most important thing was that City, who had begun to wear non-matching green socks (left), still existed. The change in the boardroom didn't translate itself to the pitch and Hindmarch left after a disappointing FAI Cup quarter-final defeat at home to Sligo Rovers and Dave Barry was chosen as his replacement. Things would improve, but not immediately, with the club finishing in ninth place.