New manager John Caulfield's made some astute signings, bringing in players like Billy Dennehy, Mark O'Sullivan, Darren Murphy and Michael Rafter, though the latter two would struggle with injuries and neither finished the season at the club. Despite the lack of wholesale changes, though, City turned into a durable side which was tough to beat and, crucially, the propensity to concede late goals as in 2013 was almost wiped out.

Coincidentally, the opening game was the same as the final match of 2013, at home to St Pat's, and a 1-1 draw was an acceptable outcome. City wore their new home kit - a noticeably brighter shade of green - for this game but a shorts swap soon took place at Caulfield's request, with the white from the away kit used (occasionally, the 2013 shorts, with the Mardyke logo on the right leg, appeared, see left).

The previous season's away jersey had been worn in pre-season with the 2013 home shorts. Come the league, it received an update with a changed Clonakilty logo to match the home and the new league badges on the sleeves too. For the second trip to Athlone Town late in the season, a white and red combination was worn.

The first game away to Athlone had seen the red shirt - retained as third - and shorts paired with the white away socks, while all-red was used away to Shamrock Rovers. On the pitch, City continued to get results for the most part. Having lost 4-0 away to their main rivals for the title, Dundalk, earlier in the season, they got back on track only to concede a late winner as Dundalk took a 2-1 result away from Turner's Cross.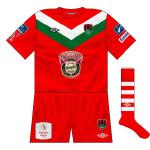 Once again, City ate into the lead, with O'Sullivan the real revelation of the season and new signing Ross Gaynor slotting in at left-back while John Kavanagh was more-than-adequate replacement for Brian Lenihan, who had secured a move to Hull City. They had moved in front of Dundalk by the final game of the season, away to the Lilywhites, but unfortunately a 2-0 loss meant a second-placed finish.