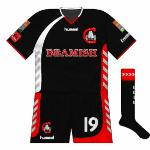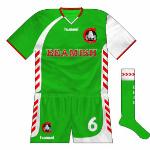 After the
sheer madness of 2007 and all of the kit variations worn during that campaign
, the 2008 season would prove to be a far more sedate affair. O'Neills were now gone and their replacement Hummel finally managed to deliver the new kit, the delay of which had resulted in the one-off white kit for the '07 FAI Cup final. Whether this new strip was worth the wait is debatable, however. Arkaga, the club's mysterious owners, seemingly had big ambitions for the club, hoping to ape the success of the Munster Rugby franchise, and to that end they tried to lay down a marker merchandise-wise. A bespoke shade of green, lighter than normal and not used by anyone else, was ordered and while there was liberal white and red trim, the asymmetrical design was not to all tastes. The new crest, first seen on the cup final kit, was also prominent. Designed because the previous version could not be copyrighted (not that there was too much of a market for bootleg City merchandise), it was not popular with supporters for a number of reasons, most notably the fact that it was red and black and the famous towers had what looked like cartoon faces, leading to
this wounderful lampooning
.
Beamish, RedFM and the Evening Echo remained as the sponsors, and as usual, the kit was first seen without league patches (above, far left) before they were added (above left). The new away strip was in the same design but in black and without the contrasting-coloured sleeve that the home had (right). No long-sleeved shirts were worn by City during this season, goalkeepers excepted. The new kits were launched in conjunction with a press conference announcing the signings of the returning George O'Callaghan and the league's top scorer in 2007, Dave Mooney, who had followed new manager Alan Mathews from Longford Town, with Pat Sullivan, Dave Mulcahy and another old boy, Danny Murphy (who had had a spell with Motherwell) all signing as well.

A spate of early draws left City having to play catch-up and Mooney took a while to find his scoring touch, but once he did it was the catalyst for a revival and with the team playing some very good exciting football they began to move up the table but Dublin sides Bohemians and St Patrick's Athletic had set a very fast pace. By the mid-season break, City were up to fourth place, seven points off the lead, though in early July O'Callaghan, who was unhappy at having to play on the right-hand side of

midfield, left the club by mutual consent. It was not the first time and it would not be the last. A week later, a thrilling comeback from a 2-0 deficit at home to Finnish side FC Haka earned City a draw in the first qualifying round of the UEFA Cup. As usual, additional sponsors were jettisoned (left), but for once City's regular shorts seemed to have bit enough numbers to prevent a change there. A 4-0 defeat in Valkeakoski meant an exit, however, and as of 2012 the club have yet to return to European competition.

That would be the least of anybody's worries, though, as things were unravelling off the pitch. Pat Kenny, the CEO appointed by Arkaga, noticed that finances were in a poor state, which led to examinership as Arkaga,
who were playing the role of the injured party
, announced that no further funding would be forthcoming. The remaining staff took a pay-cut in a bid to aid the club's survival chances, and while league results worsened, amazingly the Setanta Sports Cup final was reached, with Belfast side Glentoran the opponents in the final at Turner's Cross. Prior to that game, there was another boost as local businessman Tom Coughlan won approval from the examiner,
Kieran McCarthy, to take over the club, seemingly ensuring its future. The feelgood factor continued into the final at a packed cross, as goals from  Dan Murray and Liam Kearney (who had returned in 2007)  secured a 2-1 win after falling behind early on. With big plans from Coughlan, including a new stadium and training ground, the prospects were bright again, though just before Christmas manager Mathews was abruptly saked, despite Coughlan having expressed confidence in him and a new contract being all but agreed. It was only the tip of the iceberg, as 2009 would prove.