The 2005 campaign would begin and end with high drama, though very different types. Shortly before the start of the season, Pat Dolan left the club after a disagreement with chairman and owner Brian Lennox and was replaced by the returning Damien Richardson, who had always maintained that he had unfinished business with the club after the nature of his departure during the 1994-95 season.

On the playing front, the only addition as Corkman Roy O'Donovan, who had been with Coventry City and had accepted the offer of a trial from Dolan on his return home. With Dolan and O'Donovan's  future in limbo, he was actually signed by club secretary Jerry Harris, who showed his eye for spotting a god player. O'Donovan would not make an immediate impact but would really come to the fore as the season went on.

Kit-wise, City began the season in the same strips as the year before, the home (above left), used with shirts that had the eircom League badge and those that didn't, and while the navy outfit (top right) was used away to Shamrock Rovers early in the season, a change kit was in the pipeline. That Rovers match was a 3-1 win, the fourth away victory from four, but amazingly the first four home matches produced three draws and a defeat,but the run ended as St Patrick's Athletic were defeated 3-1 at the Cross in early May, O'Donovan getting his first goal.

Four days earlier, the new white away strip (right), which was an attractive minimalist design with an oddly-plunging neck, was premiered away to Shelbourne in the cross-border Setanta Cup, a 1-0 defeat, while another loss in the competition, at home to Portadown, meant that City didn't get out of the group stage and a demonstration was held against Richardson despite him only being in the job with two months.

A 2-0 win away to Shels,
where O'Donovan questioned Owen Heary's 2004 Player of the Year credentials
, silenced any doubts for a while as it put City three clear at the top, but there were rumblings that Kevin Doyle had a €117,000 buy-out clause, which was about to be triggered by Reading, their youth coach Eamonn Dolan tipping off Steve Coppell after being informed of it by his brother Pat. The deal also included young striker Shane Long, but as he had only played twice for the club he was not seen as a loss.
Doyle scored the goals in his farewell game, a 2-0 win over Finn Harps, and in any case his move allowed the out-of-favour Neale Fenn to come back alongside O'Flynn as City developed into a formidable side, perfect timing for the upcoming UEFA Cup campaign. Before that, some silverware was picked up as a Capital of Culture Cup was held to coincide with Cork's hosting of it that year.

Ostensibly a friendly with Scottish side Hibernian, City won on penalties after a 3-3 draw, sporing a new black and gold kit (above right) which would become the third strip as the white kit, while worn at Waterford, was not considered enough to alleviate clashes and the navy had got another outing at Bray Wanderers. In Europe, Icelandic side Ekranas provided the first test, City winning 2-0 away and losing 1-0 at home, while 43-year-old Phil Harrington, now goalkeeping coach, made a return as Michael Devine and Mark McNulty were injured. The usual changes were made to the kits, which were limited to one sponsor (above left), while the crest also had 'Est. 1984' now written below it.

For the next round against Swedes Djurgardens, the UEFA Cup patch appeared on the sleeves while the shorts had larger numbers (top right of image above), though when that obstacle was negotiated, a 1-1 away draw followed by a scoreless game at home, the next round against Slavia Prage - the first team to face City in two European ties - saw both styles of shorts used, and the shorts with the larger numbers were retained upon the resumption of league action, though what Guinness thought about this was anybody's guess.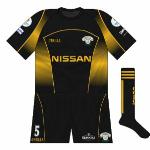 In any case, City were flying high, a Neal Horgan goal giving them a 1-0 win to put Shels out of the title race, leaving it a two-way battle between City and Derry City, who were neck and neck at the start of October, well clear of the chasing pack, with the intriguing possibility of a final-day showdown between the two. In addition, they would clash in the FAI Cup semi-final, George O'Callaghan's penalty the vital event in that game, but come November 18 and the last match, Derry had a one-point advantage ahead of the meeting at Turner's Cross.

A draw would have done them, but in front of a packed Turner's Cross there was only going to be one winner, goals from John O'Flynn and Liam Kearney ensuring a perfect send-off for the famous Shed End, which was to be demolished to make way for a brand-new stand. Two weeks later, there was the chance of the double, and to

mark the occasion City wore the new kit for 2006, which would be green and white stripes (above left) and carry a modified crest (right), while players could use long sleeves for the first time all season. Whether it was that the kit was unlucky or if it was down to Danny Murphy and O'Donovan missing the game through suspension, or maybe Drogheda were just better on the day, but City lost 2-0 and the chance to make history was missed. Nevertheless, a second league title had been claimed and the future looked bright.